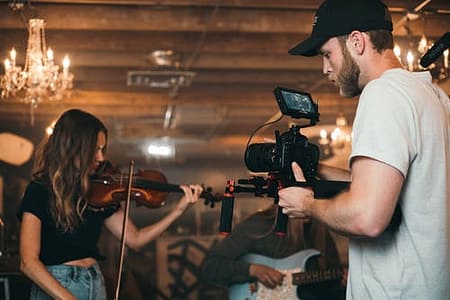 When choosing a career, you cannot afford to make any arbitrary decision without harnessing your skills and knowledge. It is more pertinent for a technical and creative field like music production. Indian music and particularly Bollywood compositions are popular all over the world. You can assume people related to this field in any shape or form to be successful. But getting an entry and carving a name is never easy regardless of what you do. You have to stand out. So, if you want to get into music production, you can choose a reputable online course and hone your talent. It will teach you all the essential aspects of this line.
Comprehensive knowledge
One of the main advantages of attending an online course is that you will get exposure to DAWs, MIDI controllers, and multiple studio technologies. From editing to mixing to more, you will get an insight into everything from end to end. As a music producer, having a fair idea of all the necessary tools and applications is critical. When you undergo formal training, you learn how instruments work and what you can do with their sounds. Once your course is complete, you can start looking for professional opportunities.
Expert feedback
Often, many online courses don't include feedback sessions. But professional music production courses in Mumbai focus on the critical facets of music-making and guide students at different steps. Their immersive knowledge of the field empowers them to give students clarity about many things, which they may have self-learned through their exposure. But you are lucky because people have realized the significance of knowledge-sharing. With their help, you can see a vast improvement in your creative decisions, idea presentations, etc. You can fix any issue too.
Hands-on experience
Some people believe that online courses lack a hands-on approach. While it is relevant for a few, the credible programs focus on building a solid foundation. They impart concise and valuable information about all the necessary tools and encourage students to take exercises for discussions. An experienced musician or producer clears their concepts, which can be familiar to the students but require a more profound dissection.
Since Mumbai is the hub of Bollywood music and other musical experiences, joining a course offered by people of the same city can be helpful. You can get a real sense of music culture through it. Also, you can expect to have a broader exposure to the world of music production. You can confidently walk into this field as you understand different tools and perform various music creation tasks.
Music production is as much a technical process as creative. Hence, it is critical to remember that you have to maintain a balance between the two. If you cannot produce sound by yourself, you can hire a sound engineer for assistance. For this, again, you need to have some basic idea of how things work. Your prior knowledge will help you get the best output even from others. Make sure you select the best course for training. Please don't compromise with the quality of content when you can access it easily.