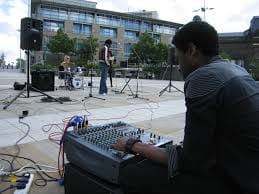 Learning sound engineering is not easy. Producing a beautiful song needs a lot of work and dedication from the producer. A good song results from making several decisions, mistakes and from a technical and creative mind. Therefore, a student must be dedicated and determined to learn. These guidelines will aid you in choosing the best school that offer sound engineering courses.
Sound engineering courses should be affordable
You should pick a school that is reasonably priced. This is crucial because music production education is not regulated. As a result, different establishments will offer varying charges on their tuition. Therefore, you must comparison shops to ensure that you get a good deal. You should also inquire about financial aid as some schools offer partial or even full scholarships to students who are musically talented.
The school must offer hands-on experience
When choosing a sound engineering school, practical experience is a key factor in making your decision. If the institution you choose does not offer hands on experience, then you will not get quality music education. Your instructors need to allow you to see the way they demonstrate the process of producing music. They should then allow you to experiment with the innovative music production software and equipment. This way, you may get a good job or internship position after graduating.
Sound engineering courses should have small classes
You should go for a college that has small sized classes rather than large classes. This will ensure that you get the one on one instruction that you really need. The ratio of lecturers to students should also be even. You do not want a school where the instructors are overworked from handling a large number of students.
Courses should be taught by industry professionals
You must only choose an institution that has professionals from the music industry. The establishment should have lecturers, program managers and guest speakers who are experienced and knowledgeable music professionals. The institution should have working artists like music producers, sound designers, master/mix engineers, DJs and much more. Such experts understand the industry better and will offer sound advice that will enable you to penetrate this ever growing industry.
Courses must incorporate Technology
With the advancing technology, the music industry has not been left behind. Students can easily learn music production on the internet. Therefore, when choosing a school, go for one that has the latest equipment in the industry. This way, you will easily blend into the industry after completing your studies. You do not want to learn using outdated music production devices that will no longer be in use when you complete your studies.
A good music school will steer you in the right direction. The institution should expose you to the music production world and arm you with the knowledge and skills that you need in your career. This way, you will be confident enough to use your expertise in music production to build your reputation and a name in the industry.