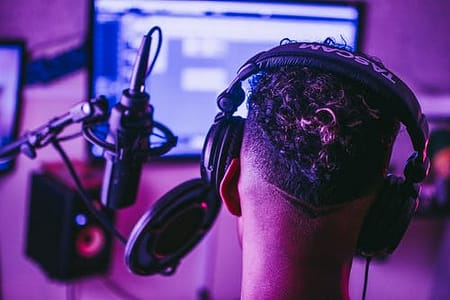 The landscape of Indian music is rich and expansive due to the popularity of traditional, Carnatic, Hindustani, and Bollywood options. Autonomous artists can walk the unbeaten path because of the vast recognition for creativity and hard work across the nation. However, it doesn't mean you have to be an expert in singing or musical instrument to gain mileage. You can channelize your enthusiasm for music in many ways. Have you thought of becoming a music producer? Music producer delivers the best-sounding music to the audience. You oversee all the stages of production to ensure the desired output. Earlier, you needed a music studio for this. With digital intervention, you can do better works through workstations and programming.
The newcomers in this field have realized the significance of knowing theory and practical applications. That's why they prepare themselves well before taking up the actual job. As a music producer, you have to wear many hats – author, music mixer, arranger, and account engineer. All these are intricate fields in themselves, but when they combine, they help produce terrific sounds. If you do any credible music production courses in Mumbai, you will get a fair idea of them. And what you learn during those days can help you select a niche also. Here is a quick recollection of some coveted career options.
Music producer
The foremost thing on your mind can be music production. As a music maker, you can seek an opportunity with music studios or offices. You have to manage recording appointments with artists and staff, create a budget, work with performers and sound engineers on a project, and more. Since everything depends on a music producer, labels and music houses collaborate with outstanding talents only.
Sound engineer
Sound designers or engineers specialize in some parts of music-making, such as music blending, amplifiers, recording, etc. They have to advance sound recording and fix musical devices for a successful output. Usually, recording studios need these people.
Radio broadcast Engineer
Any music house needs this person to relay the final musical pieces through radio. They have to maintain all the gear to avoid any disruption in communication. You have to edit audio recordings and manage relevant computer systems in this role.
Sound mixer
A sound mixer takes care of the volume and sound quality of the recorded or live-playing audio. It is different than sound editing. You need to be proficient with sound mixing devices to adjust sounds in real-time when required. These jobs are in demand with live music productions as they depend on live audio feeds for adjustments.
Digital audio editor
The music production industry hires people with experience in digital audio editing. You have to cut, copy, splice, mix, clean, and add effects to the recorded sound. Sometimes, sound engineers or audio technicians also handle these things. But companies need people who can focus on post-production.
A course in music production can help you identify your skill and give you a sense of direction. If you cannot be a music producer initially, you can work on different aspects to eventually reach that stage.